Mobile Applications
These applications are created usually to satisfy the need of accessing information and content in a very frecuent way at any time and any place, where the experience to the final user need to be easy and fast, and when features provided for these devices, such as location, are needed. That is why an application installed in those devices is justified.
There are lot of applications available from entretaiment, data processing, learning, shopping, network monitor and many more.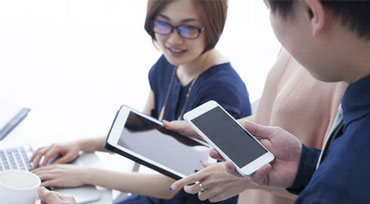 For companies an application can help the organization to communicate, process, display data, make calculation, meetings and any other need that requires content to be available anytime anywhere.
Important Facts
a
Methodology: Define the steps to follow in order to get the expected results.
b
Resources: Interrelationship between people, hardware and tools to produce a nice and efficient relationship.
c
Ethic: Software must be developt as a product for a better society with individual,groupal and organizational principles.
Technologies
There different software developing options to create a mobile application like native, hybrid or even responsive web application each one with its advanges and disadvanges, all depends on what the application needs to do and the budget.